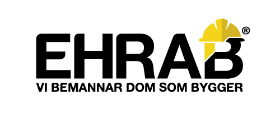 EHRAB offers innovative solutions for staffing and recruiting. The company is a secure employer and supplier with many years of experience delivering custom-made solutions to some of Europe's most prominent companies within the construction industry. So far, more than 1000 projects have been successfully delivered to companies all over Europe.
The Saas company SweApp focuses on app development for a more sustainable world. SweApp's goal is to create native apps which play a significant part in keeping the digital era and platform economy sustainable and fair. Examples of apps created include ByggJobs and Jobbfixer, that aim to easily match job seekers with high-quality employers.

Sweajobb Arbetsförmedling AB
Sweajobb Arbetsfömedling aims to match the right person with the right job and work together with, for example, Rusta och Matcha  (only in Swedish) – a service where the Swedish Employment Services, together with independent actors, help job seekers back to work as soon as possible by educating and motivating them to get a job within a scarce occupation. The business model is based on franchising around Sweden, and the goal is to become one of Sweden's most extensive privately owned employment services.

VillaSwea delivers cost-effective turnkey homes and provides expert advisory services from initial planning to finished houses. The objective is to build sustainable prefabricated houses for everybody, no matter the budget. VillaSwea, with its partners, are keen to offer housing solutions that meet today's demands for quality, design, and environmental concern. Today, the possibility to choose a turnkey prefabricated house is of great advantage for all entrepreneurs throughout the entire building chain, as well as for the end-consumer.
We like to participate in early Pre-IPO cases and help them to enter the stock exchange and grow. One good example of this is SHT. Today, SHT is a public company on the Swedish stock exchange, i.e. Spotlight. SHT works with nanographene technology to reduce heat in electronic devices, sever-plants, and much more. Since the cooling process in server plants takes much energy, SHT's products can decrease consumption and increase the lifetime of the electronic product.